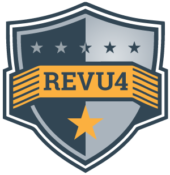 If You're Ready To Start, So Are We!
Sign Up Risk-Free With A FREE 14-Day Trial
If you don't love the results, walk away and still keep your Reviews!
To begin, fill out this simple intake form and we'll do the rest. We don't let the robots handle this stuff!
Watch your Inbox! You'll get a couple of emails to confirm details and give some instructions to get you up and running.
Common questions
Q: What does it cost?
It doesn't cost you anything. It is free today.
Q: What do I have to do?

Just watch your email Inbox for a couple of emails from REVU4. We prepare your trial account by hand, and might have a couple of questions to customize your REVU4 funnel. Once we're done, you can start adding customers to the funnel in any of the simple ways we'll show you.
Q: How many reviews will I get?
It depends on how many recent customers you add. We usually see an average minimum of 25% conversion to online reviews but a much larger percentage of feedback offered.