Airbnb has grown into one of the top online marketplaces, global travel communities, and service platforms for individuals looking to book unique homes and experiences.
Airbnb users who are travelling can use the site or app to lease or rent short-term accommodations, including apartments, homestays, holiday cottages, hostel beds, villas, hotel rooms, even castles and treehouses.
There are nearly 5 million Airbnb listings worldwide, across 81,000 cities and 191+ countries, amounting to more than 300 million Airbnb guest arrivals all-time.
How Do Reviews for Airbnb Work?
To ensure a great experience for both hosts and guests in the Airbnb community, Airbnb asks both groups to leave online reviews of each other after every completed trip. The guest can review his or her host, and the host can review his or her guest at the end of the guest's stay.
According to Airbnb, "having great reviews shows that you're a trusted and respectful member of the community, and can encourage people to book your place or accept your reservation request."
There are different types of Airbnb reviews that users can leave on the site or app.
Public reviews: Up to 500 words that are visible to everyone in the community.
Private feedback: A message to a host or guest to show appreciation or suggest improvements.
Star ratings: Ratings for hosts from 1 (worst) to 5 (best) for the overall experience and for specific categories, including: overall experience, cleanliness, accuracy, value, communication, check-in, and location. You need to get 3 star ratings before your overall rating appears on your listing or profile.
Group reviews: A public review that appears on the profiles of all of the guests on the reservation. There are no group reviews for Airbnb hosts.
Cancellation reviews: If you cancel a reservation as a host, an automated review will be posted to your profile. These reviews are one of the host cancellation penalties and can't be removed. But you, as a host, can write a public response to clarify why you needed to cancel.
Airbnb Reviews Examples
Here are examples of hosts reviewing a guest after their stay:
And here's an example of Airbnb reviews of a host, as posted by their guests:

If you're managing one or more listings on Airbnb, you can read all your Airbnb reviews by visiting your profile / clicking your profile photo on the top right corner of the site, or by navigating directly to your Airbnb Reviews page.
You can also use a review software platform like REVU4 to keep an eye on what Airbnb users are saying about your space, along with reviews on other travel review websites like TripAdvisor, Yelp, Google, Facebook, and more.
Airbnb Host Reviews: What You Need to Know
As a host, you can share a review of your Airbnb guests, as well as receive reviews that will appear on the listing of the place in which your guest stayed.
To encourage you to write reviews, Airbnb sends an email and notification after each trip asking you to review your guest.
You have 14 days after the guest has checked out to write a review. This review will remain confidential until your guest has posted a review of their own, or until the 14-day review period has ended. This means that host reviews written by your guests will eventually be made public, regardless of whether or not you, as a host, left a review of your guest.
As an Airbnb host, you cannot delete reviews by your guests unless these violate Airbnb's content policy. You can report a review by going to Account, clicking on View Profile, and clicking the flag icon next to your Airbnb host review.
Responding to Airbnb Reviews
You can respond to your guest's reviews on Airbnb. To write your review response, go to Reviews then click on Reviews about you. Then find the review that you would like to respond to. Keep in mind that you have 14 days to write a response to a review.
The Impact of Reviews on Your Superhost Status
Airbnb's Superhost program recognizes hosts who go above and beyond for every guest. Superhosts enjoy increased visibility in search results on Airbnb, exclusive perks, insider access, and an expanded set of business tools for hosting.
The current criteria for achieving Superhost status is as follows:
Achieve a 4.8 overall rating or higher;
Respond within 24 hours at least 90 percent of the time;
Host at least 10 stays a year;
Have no cancellations and honor every reservation (unless there's an extenuating circumstance).
As you can see above, one of the factors that Airbnb takes into account when identifying Superhosts is your overall rating. Your overall rating is the average star rating across all your Airbnb listings (if you're managing more than one).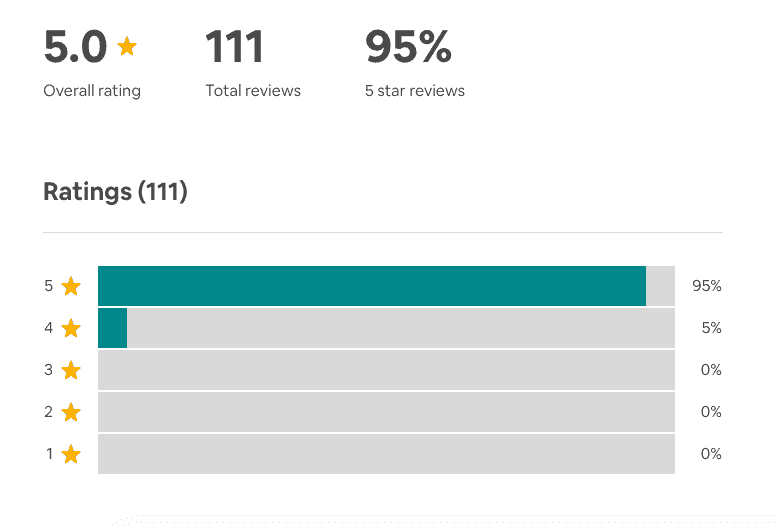 Remember: Airbnb reviews can help drive guests to book your place. The more and better reviews your Airbnb listings have, the more likely you are to attract guests. Successful hosts are able to make connections with guests that enhance the experience, opening the doors to better reviews, a stronger online reputation, and increased bookings.