Does perfection exist?
It does in the mind of the wedding couples you're serving. Their wedding reviews will reflect this expectation. If you're a wedding industry professional – a planner, caterer, photographer, etc. your clients expect perfection.
You're dealing with a layered set of expectations here. Clients want you to get things right, the first time.
Here's a common scenario.
The couple has a vision of their perfect wedding day. What it looks like, the people who are there, the food, the smells, all of it.
In this setting, they expect reality to match the picture in their head.
If you're a wedding industry professional, this can be a relational minefield
This is the challenge wedding professionals face. It's also the unspoken barrier that determines whether or not you'll be able to earn the five-star reviews you deserve. You'll have to figure out what your client wants, reading their minds ahead of time. Fail to deliver on their expectations and your clients may overreact.
If that seems impossible and slightly unfair, you're right.
It is unfair.
But it's also completely doable. In fact, it's something that sophisticated wedding professionals do all the time. They do this by managing and sculpting their client's expectations.
What does that mean?
They flush client expectations out into the open. If you're a regular REVU4 reader, you may already know the answer. Clients come to you with expectations floating around inside their heads. The trouble is, they don't usually tell you about these expectations. They just assume you already know.
But it gets worse.
Your clients hold you responsible for their unspoken expectations. That's right, they expect you to already know how to keep them satisfied and happy. They're profoundly unhappy if you fail. Yes, that's incredibly unfair but also completely accurate.
Why kind of expectations are we talking about?
1. Fuzzy expectations: Your client expects a change, outcome or result from you, but they have no idea what that change looks like. It's hazy at best and difficult to pin down or measure (i.e., I'd like to divide guests somehow).
2. Implicit expectation: The details your client believes to be "obvious" or "self-evident" when they're anything but (e.g., you know the style of photos I'm looking for). It's all the general, yet unspoken, assumptions a client makes. The very same ones they don't even realize they should share with you.
3. Unrealistic expectations: These are the expectations you're either unable or unwilling to meet (i.e., the caterer will cover any last-minute menu changes I make). Here's the dangerous part about unrealistic expectations. They can also be fuzzy or precise, implicit or explicit.
This means clients could quite possibly be holding you, the wedding professional, responsible for something you don't know about, can't fix or wouldn't fix even if you could.
Caution is the word of the day here.
This sounds terrible. How are you supposed to keep your clients happy? That's the simple part. Just figure out where their expectations come from.
The "where" shows you the questions you'll need to ask.
Your client's expectations typically come from four places.
1. Word-of-mouth. Someone, (e.g., a previous client, a referral source) recommends you to the couple. This positive word-of-mouth creates high expectations that your clients bring with them when they meet with you for the first time. This includes your online review portfolio as clients will read your review content ahead of time to vet any professionals under consideration.
2. Past experiences. Has your client (or a loved one) been burned before? Are they an experienced client? Was their experience in the past positive or negative? If your client (or a close connection) has been used and abused by a competitor, you need to know. Again, your review portfolio shapes your client's expectations here. A negative review may continue to shape future client's expectations.
3. Marketing communications. Contrary to popular belief, clients pay attention to marketing. What are your competitors promising? What sort of things (true, false, unreasonable), do clients believe about your industry or service? Are those the sort of things you're willing to agree to? Reviews play a prominent role here as well. Depending on the content in your review portfolio, your marketing may be more or less effective.
4. Personal needs. Clients may be aware of their problems, but that doesn't mean they know how to solve them. Fuzzy expectations, remember? Expectations develop around personal needs, so it's a great place to start. These wedding checklists are helpful places to start. You can use these checklists to create a set of questions you can use in your own business.
Discussion and follow-up questions change fuzzy expectations to precise ones. Revealing implicit expectations immediately makes them explicit. A conversation with your clients allows you to shape unreasonable expectations.
You can shape expectations with:
Process: If you have a specific methodology to shepherd clients through the process it's important to spell this out. You'll want to find the right balance between over and underwhelm. A process is important because it gives clients peace of mind.
Punishment and reward: This isn't an explicit punishment or reward. It's simply you, the wedding professional, allowing reality to teach your clients. If they get you what you need, when you need it, you're able to produce results on time. If they change their mind continually, they won't get a discounted rate, etc. Gently remind them of the impact reality will have on their wedding to move things forward.
Psychological framing: Your clients may experience a rollercoaster of emotions as they vacillate between getting or not getting what they want. Life will throw a variety of twists and turns their way. As a seasoned professional, you're prepared for this. Your clients, on the other hand, are not.
Hold on, now.
Wasn't this article supposed to be about getting 5-star reviews?
Meeting expectations is how you get 5-star reviews.
The wedding industry is very different from other industries. With other industries, your clients and customers are satisfied if you provide them with a favorable or above-average outcome. With the wedding industry, your clients want you to covert their expectations into reality.
Shaping, managing, and exceeding expectations is how you earn 5-star reviews.
Why wedding reviews are important to the wedding industry
According to Wedding Wire's 2019 newlywed report, reviews and photos, aside from price, are the most important features couples look for when determining which vendor they'd like to contact.
80% of couples find reviews to be very important in their vendor selection process
These couples are more likely to consider a vendor with both positive and negative reviews than no reviews at all
Most couples leave reviews 2 to 3 weeks after their wedding
Of those who don't write a review, 20% of couples will leave a review when asked
Their study shows couples hire 14 vendors on average for their wedding
Which vendors do couples hire?
90% of couples hire wedding photographers
86% of couples pay for a venue
80% of couples pay for hair and makeup
78% of couples pay for a wedding dress
76% of couples pay for a wedding cake
74% of couples pay for flowers
72% of couples pay for DJ
What's the current state of reviews in the wedding industry then?
Intense competition.
There's an intense amount of competition and it's centred around a few specific providers. These vendors provide wedding professionals with the lion's share of traffic, leads, and sales.
1. The Knot
2. WeddingWire
3. Google
4. Facebook
5. Yelp
Industry-specific providers like The Knot and WeddingWire are go-to sites for couples. These sites are convenient because the wedding professionals couples will need are all in one place. Couples can search locally for top-rated professionals, comparing pricing, reviews, photos and policies.
These sites are necessary, but the competition is intense. Wedding professionals on The Knot and WeddingWire are typically on top of their game.
What about the other three?
Why are Google, Facebook and Yelp on the list? If you're like most vendors, you aren't solely dependent on weddings. Caterers, DJs, photographers, florists and bakeries serve a wide variety of events.
This is your in.
You want to attack the competition from two angles.
First, you'll want to build a solid review portfolio on The Knot and WeddingWire. The majority of your clients come to these two sites, at first. It's a good idea to divert 80% of your satisfied clients to these two sites, 20% to sites like Google, Facebook, Yelp and others.
Here's why this is a good idea.
You should expect your competitors to have a strong review portfolio inside of The Knot and Wedding Wire. Take the fight to them directly on these sites. Then pursue reviews on the big three.
Why?
Here's a clear-cut example.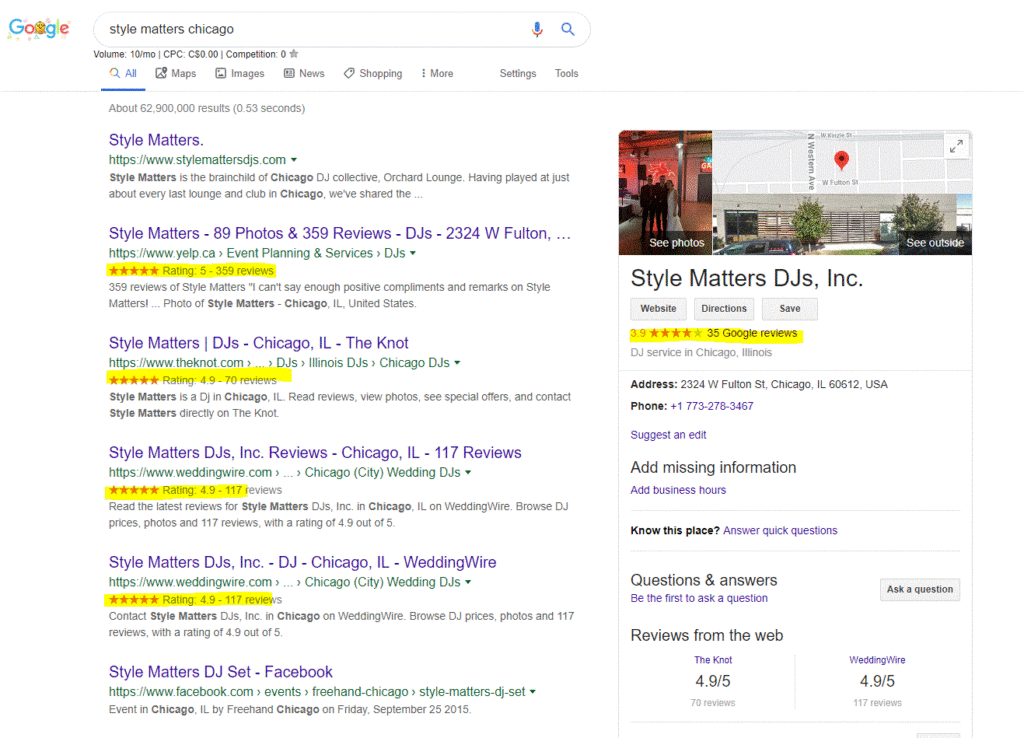 Style Matters, a crew of professional DJs based in Chicago, built a strong review portfolio using The Knot, WeddingWire, Google reviews and Yelp to build a strong review portfolio.
Pricing
Reviews
Photography (high-quality photos and video)
Location (e.g., general proximity or proximity to venue)
Your clients use broad, generic, and location-specific queries to identify the top candidates for their search.
wedding dj
wedding dj [chicago]
wedding dj websites
wedding dj websites [chicago]
dj for wedding
dj for wedding [chicago]
dj hire
dj hire [chicago]
dj for hire
dj for hire [chicago]
Their clients may go through search engines like Google, ask for recommendations on Facebook, browse through Yelp's search results, create a list of potential vendors using The Knot or WeddingWire or all of the above. The fact of the matter here is this.
You don't know where your clients will begin their search.
It's not really all that important whether your clients begin their search on WeddingWire, Google, or Yelp. What is important is that your business is present whenever and wherever your client chooses to begin that search. With a strong review portfolio, you'll be able to rank locally for the queries that matter most.
The stronger your review portfolio, the bigger your competitive advantage
Your clients need help.
As the research above shows, the vast majority of your clients are looking to hire an average of 14 vendors to help plan and produce their wedding. As we've seen, 80% of your prospective clients rely on reviews to determine which vendors they'll hire.
What does this mean for wedding professionals like yourself?
Your online reviews are most definitely a competitive advantage. Build a strong review portfolio across the variety of industry-specific and mainstream sites and you:
Amplify the effectiveness of your marketing
Dramatically boost your conversion rate
Decrease sales cycles from advertising, to intake, to conversion
Attract a steady stream of traffic, leads and sales to your business
Insulate your business against negative reviews from toxic customers
It's difficult at first.
If you're running a new business, it can be tough to gain traction with your first 5 to 10 clients. That's why you must request reviews from the clients you receive in the very beginning. It's easy to gain traction then, provided you have the right online review management tools in place.
Okay. Let's imagine that you're ready to request reviews from your clients.
Where do you start?
With timing.
Don't request a review on your client's big day. Don't interrupt their honeymoon. Instead, you want to ensure you time things appropriately. Do it right and you increase your odds of receiving a five-star review with minimal effort.
Here's how you do it.
1. Prime the pump. When you interview your clients initially, it's a good idea to let them know you'll be requesting their feedback, after their honeymoon. Doing this upfront means it won't be an unpleasant surprise later when you ask. It also gives you a chance to feel them out.
2. Save the date. According to brides.com, honeymoons last anywhere from 10 to 14 days. You'll want to provide your clients with an adequate amount of time to enjoy themselves. Get specifics if you can, to ensure you don't interrupt.
3. Gently request feedback. It's a good idea to create an autoresponder sequence that sends your clients a (short) series of texts or emails requesting a review. This enables you to automate your requests without being pushy, inappropriate or cringey.
Here are two templates you can customize for your specific business.
---
Subject: [Name], your wedding was beautiful! Pay it forward by…
Hi [Name],
Your wedding was beautiful. Your guests were gushing about [specifics]. Thank you for trusting us to help you on your big day. Please help us pay it forward.
Would you share your feedback on our performance?
We want to do an amazing job for couples just like you. Your feedback helps us to do that.
Share your feedback here. [Review Funnel Link] [Signature]
---
Here's another template.
---
Subject: Congratulations [Name]! Did we make you…
Congratulations [Name]!
You've tied the knot. We're so happy for you! I wanted to thank you for allowing us to be part of your special day. I also wanted to ask you a question.
Did we make you happy?
How can we make things better?
Sharing your feedback with us gives us a chance to make another couple happy as well. Good or bad we want to hear what you have to say.
Share your feedback here. [Review Funnel Link] [Signature]
---
If you're using an online review management platform, you can send automated texts and emails to your clients. If you're going to do that, make sure you send it at the end of their honeymoon, never before.
If you know where your client's expectations come from, you also know what to ask about. Interviewing them ahead of time means you can ping them at the end of their honeymoon with pointed questions about word-of-mouth, their past experiences, marketing they've seen or their personal needs.
What about responses?
Who should be in charge of the client reviews your organization receives? That depends on the size and scope of your organization as well as the temperament of the leadership in your firm.
Solo businesses: the owner(s) respond
Businesses with one to five employees: the owner or customer service rep responds
6 to 20 employees: the owner, customer service or marketing team responds
If you're placing someone in charge of your online review portfolio, they should be agreeable, conscientious, extroverted and above all, patient. You want to avoid scenarios like these:
The kind of scenarios where your clients are bullied and abused into an unfavourable deal. If someone has a short fuse in your company, they shouldn't be responding to their own reviews.
What if prospects never see your reviews?
They won't see them unless they go looking for them directly. This is why it's so important to promote your reviews. Review promotion is a surefire way to attract the amount of traffic, leads and sales you need. Here's a straightforward method you can use to boost your conversion rate.
Divide your marketing budget into thirds.
1. Spend 10% of your budget on cold traffic, ads to new clients who have never heard of you. Often these clients a helpful resource (e.g., a wedding checklist, negotiating scripts, or wedding budget guide).
2. Spend 30% of your budget on warm traffic, clients who've requested your offer from step one. Promote your five-star reviews and your review portfolio (via a landing page), to attract more client attention.
3. Spend 60% of your budget on hot traffic; these are clients who completed steps one and two. Ask these clients to book an appointment, request a meeting or schedule a call.
Here's a more detailed breakdown if you're looking for creative ways to promote your online reviews. You can use these strategies to spend your ad dollars on Google, Facebook, or Yelp ads. You can also promote your services on The Knot or WeddingWire.
Audit and optimize your profiles on each of these sites first.
Reviews are indispensable to the wedding industry
Your clients want them. Your business desperately needs them.
Your clients have fuzzy, implicit and unrealistic expectations. Shaping, managing and exceeding expectations is how you earn 5-star reviews.