Google has established itself as a review giant of the internet!
Google is increasingly gaining momentum and user activity compared to any other review platform. Yelp's reputation was once prosperous and is still a very well established platform. But according to a recent study done by Brightlocal they are slowing down. Now Yelp and TripAdvisor are trailing behind and it's important for business owners to note these changes.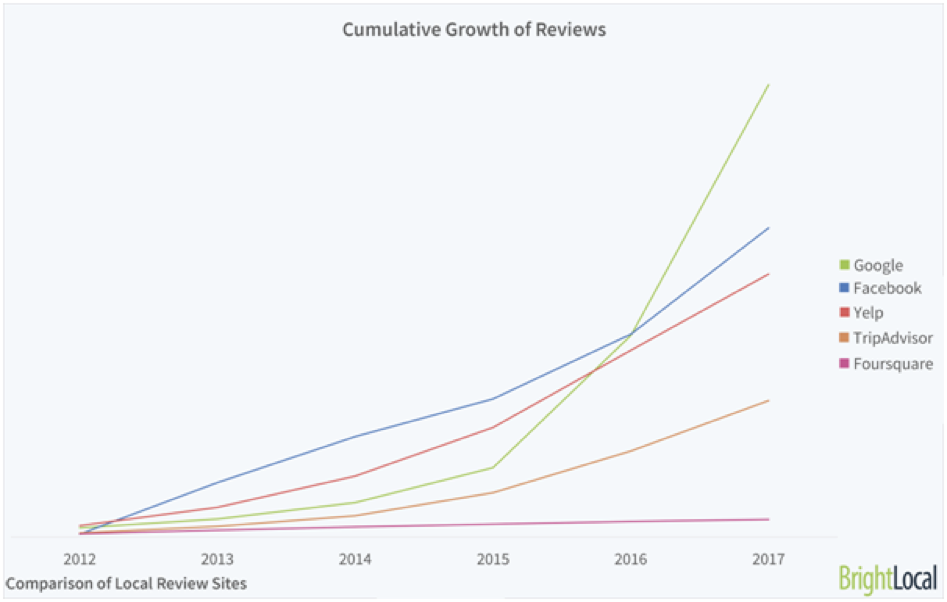 How did Google surpass these review platforms?
What is the reason behind this trend?
Do the other review platforms still affect business owners?
There are a few factors that have given Google the advantage:
Google has Invested In & Leveraged Mobile
Research has found that more and more people are accessing the internet on mobile devices instead of desktops or laptops. StatCounter tracked internet users for a year between 2016 and 2017. Studies found that mobile Internet usage overtook desktop usage. Even with owners of iPhones, Google has been able to capitalize on the rise of mobile usage. Most smartphones come equipped with Google Maps pre-installed. Even with iPhone users, Google Maps is the obvious choice for searching for local businesses for millions of users. Google taps into that large user base for both dominating mobile devices.
GPS-Triggered Review Requests on Google Maps
When someone locates and visits a spot using Google Maps, the app remembers and triggers a prompt, based on GPS coordinates. This on-screen prompt invites the user to rate the business that they were at, right from their smartphone. Google has leveraged mobile location tracking to make leaving a review extremely easy!
Google Local Guides Writing Reviews
The Google Local Guides program incentivizes users by giving them points that can be redeemed for benefits when they contribute to business listings. Local guides can contribute to a business listing by the means of providing reviews, photos, suggestions, etc. By pairing this program with their huge user base of Smartphone users, Google Maps has fresh user-generated content that is relevant and useful to consumers.
Google's search algorithm places Google Maps at the top of search results in what we call the "Local 3-Pack". The algorithm places businesses in this map where it can affect your local SEO. Having a good number of healthy reviews and a great star rating is bound to attract more customers to your door. Google Maps receives search traffic that previously would have gone towards a review site, and it pushes other search results further down the page, where they will get clicked on far less.
Yelp's Screening Process is Too Aggressive
Yelp has made great attempts to prevent fake reviews and companies that are inviting users to leave reviews. The mysterious workings of its algorithms have left a lot of business owners baffled about how reviews are screened and how rankings operate. Most business owners we've talked to feel that Yelp is in it to promote negative reviews. It has become extremely difficult to leave a review on Yelp. According to research, 25 percent of all reviews posted on Yelp are weeded out. This means that some authentic reviews are being eliminated alongside suspect ones. As a result, Yelp has depressed its own numbers.
With Google as a fast-growing review platform, how do business owners respond to the changing local review landscape?
Claim Your Listing on Google Maps
When a business listing appears on Google Maps, it may have been submitted by a consumer or even a competitor. All the accompanying information may not be accurate. After you claim your listing, you become the admin for it.
Manage and Maintain Your Google Business Listing
Most business owners may not know the implications of updating their information regularly on Google. If you update hours for holidays, move, or change hours, you'll need to modify your listing, so you don't miss out on prospective customers and mislead customers. You'll also want to check to make sure that your business appears in the right vertical and that you have appropriately categorized the industries and services that you provide. You can add logos, create posts, and photos, too. According to Google, businesses with photos receive 42 percent more requests for driving directions and 35 percent more clicks through to their websites from Google users than businesses without photos.
Read and Respond to Google Reviews
Over 80 percent of consumers now expect a business to reply to what they say online. With Google gaining speed as the go-to review platform, it's crucial that you stay on top of Google reviews. Fortunately, for businesses, they have a few options for replying quickly. Notifications are usually sent to the business owners through the verified listing, notifying them of new reviews that have been left and analytics. Or if you have multiple storefronts to oversee, you can use an affordable platform like REVU4 which will let you monitor and respond to Google, and other review sites, in real-time from within the dashboard.
Given that Google reviews are growing rapidly, business owners need to make sure that they are claiming and verifying their Google Business listings, updating them for accuracy, and responding quickly to new reviews.
Take a Free 14-Day Trial to see how REVU4 will make requesting reviews from your customers simple, fast and effective.